Fantastic story from the French Pyrenees to Algarve in a Hyundai Electric Vehicle.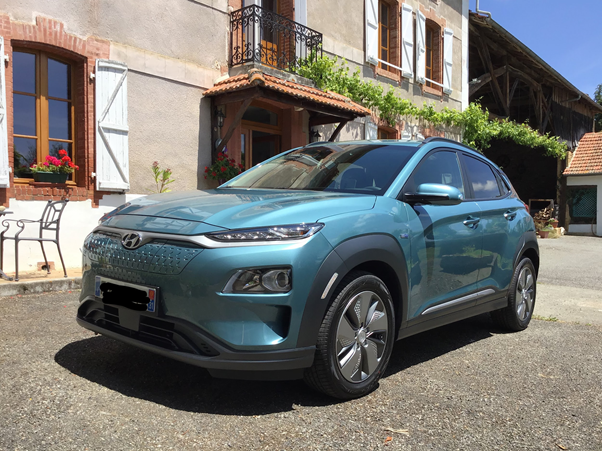 Last year we visited Spain, our first long distance trip since buying our Hyundai Kauai. Being aware of the difficulties of charging on route I began preparing well in advance. Pivotal in that approach is a website called abetterrouteplanner. This site is run by some EV enthusiasts which allows you to input all the information that can "affect" your EV on a long distance trip. You input the car details, expected temperature, rain or dry roads etc. The site will then provide you with the most EV friendly route to your destination taking into account chargers, stops, elevation changes, etc. It's really good, but not full proof as it doesn't appear to know the status of the chargers, it's therefore prudent to verify the suggested stops with an alternative app. I usually make use of Chargemap, but for Spain also Electromaps and for Portugal Miio has become a firm favourite. Check previous users comments, make sure that the chargers you plan to use are not out of order especially if you don't have an alternative place close enough to get to. In Portugal Miio has real-time access to the Mobi.E network chargers, a must use in my opinion.
This year we decided to take a last minute short break to Algarve, another new destination for us in our EV. On previous long trips I've had months to plan ahead, but for this trip only a couple of weeks. I started route planning, all appeared fairly normal in Spain, but for Portugal I was struggling to find out how to pay for charging. I soon realised that Mobi.E was involved in the charging network, at first glance it appeared that the chargers were free, at least if you use their app. Eventually the penny dropped that it was only their normal chargers (7 kW for our car) that were free, the rapid chargers (50 kW) were chargeable, but how to pay?
I came across an article on insideevs about the difficulties of driving an EV in Portugal, so sent a message to the author, who very kindly responded and put me in touch with UVE – EV Users Association. I contacted Sérgio Mendes, from UVE, he replied promptly giving me information about charging and how to use the rapid chargers. It was apparent that to activate the rapid chargers in Portugal, you have to have a RFID card, there is no app or other way to pay.
The rapid chargers are run by Mobi.E, but to get a RFID card you have to subscribe to a Portuguese energy supplier. I started researching how to do this. Currently there are 6 energy suppliers in Portugal, I sent emails to a couple of them, as it would appear that you needed a Portuguese bank account and sometimes a Portuguese address as well.
The first to reply was Evaz Energy, a family run business (EDP also replied but several days later, too late to do anything with them). They were able to supply us with a RFID card and could use our French bank account for the direct debit that all the Portuguese energy suppliers would require. I wasn't particularly happy setting up a direct debit with a foreign entity, so I started looking at how we could make the trip without using Portuguese rapid chargers. Indeed there was a route that would get us to our destination, but it would take at least 90 minutes longer and would require yet another app setting up to enable the charge. I was also concerned that as we had a lot of driving to do in Portugal, could we manage without access to the country's rapid chargers?
In addition I didn't think with only 10 days to go before we left that there would be enough time to get a direct debit setup (French banks aren't exactly quick in that respect) and get the card mailed to us. I emailed Eva the contact I'd spoken to earlier in the process, she was confident it would work, so we filled out the mandate and emailed it to them. Three days later the RFID card arrived, what a great service!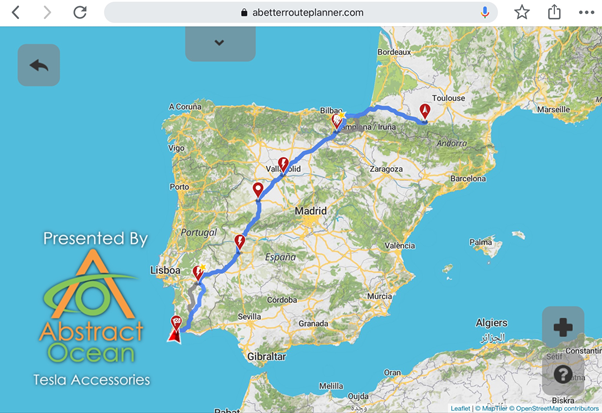 Day 1
I re-planned our route with our new Portuguese RFID card in mind. We live in the French Pyrenees, 1365 km away from our destination. We settled on a stop in Salamanca at a hotel with a charger (always a good move to get a 100% charge overnight). This meant two stops to charge on the first leg, and two stops on the second leg. With the range of our car, it would normally only be one longer stop, but the spacing of chargers in Spain and Portugal didn't allow this.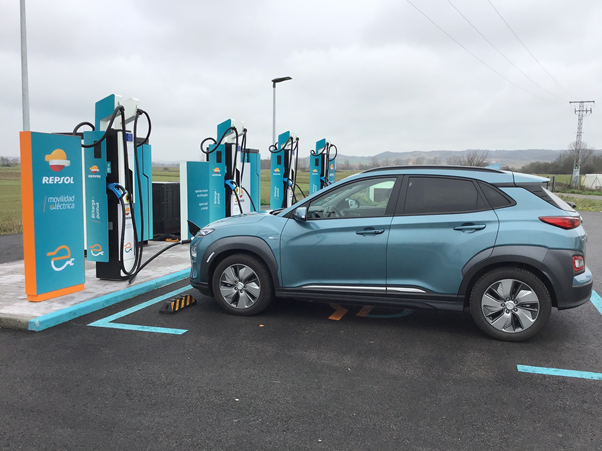 The first stop was scheduled to be at the only Repsol ultrarapid (350 kW). Our car is capable of charging at up to 77 kW, so I was keen to use this charger to get a nice quick charge. Sadly something was wrong with the charger, we only managed a rate of 35 kW despite moving to another stall (they have 4 stalls, another reason for wanting to stop there). This resulted in the charge taking at least twice as long as planned, also due to their elevated pricing for a ultrarapid (0.446 €/KWH) and moving stalls we ended up being paying 30 Euro for the privilege. The second stop that day was due to be at Valladolid, but knowing that we needed to use a Wenea charger on the second leg, which we had failed to get working on our trip to Spain last year, we decided to stop early at a Wenea charger and test that it would work.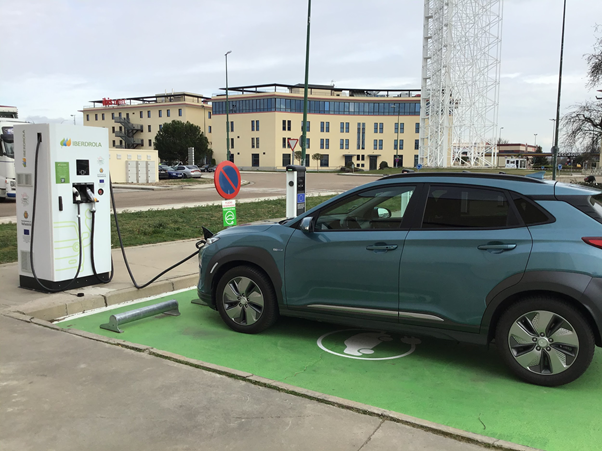 This was the first charger I've found that had the charging plugs locked in the charger, you need to use their app to charge, but no amount of trying would unlock the plug. I called their support, but with no Spanish to call upon, and the limited English on their support, we gave up and went to Valladolid, where we found an Iberdrola rapid charger tucked away in the corner of an office car park. This charger worked first time with their app, a left over from last year's Spanish trip, we even had some credit left. The only irritation with their system, and indeed Wenea's too is that you have to specify the amount KWH for the charge, working this out on the fly when you are tired can be a little hit and miss, we far prefer plugging in, and charging to the percentage we need to get to the next charger.
The next stop was Salamanca where we planned to stay overnight. The hotel had two Tesla destination chargers, we plugged into the first one, the charging port lit up red and refused to start, tried the second, that also lit up red, but after a few moments went green and started to charge. Seems that the first one was specifically for Tesla's only, worth keeping in mind as they looked identical.
Starting the next day with 100% charge is a good feeling, it's also good for the battery to have a slow AC charge to 100%, as it allows the BMS (battery management system) to check that all the cells in the battery are balanced, this type of charge is the only time it can make this check and balance.
Day 2
The first charging stop of the day was due to be at Caceres, another Wenea charger, due to the failure the previous two times using Wenea's chargers I emailed them to ask how we could get a charge. I promptly received a reply, which suggested that there would be someone on hand to help if there was any issue. What we hadn't appreciated, one of Wenea's offices is based at Caceres on the university campus, where the charger is located.
We duly arrived, a very full car park, a Zoe parked in one bay and the other available, albeit a rather tight fit, as I parked I saw the Zoe being unlocked, great I thought, is the owner going to jump out and grab the charger, but no, it was the support chap from Wenea who I had spoken to the previous day, there to ensure we were able to get charging, just as well as it took multiple attempts. I think there were a couple of issues, their app requires you to keep the app open and in close proximity to the charger, it might get upset if data reception isn't good, also you need to start the session before plugging in the car, after three attempts it started to charge, quite a relief.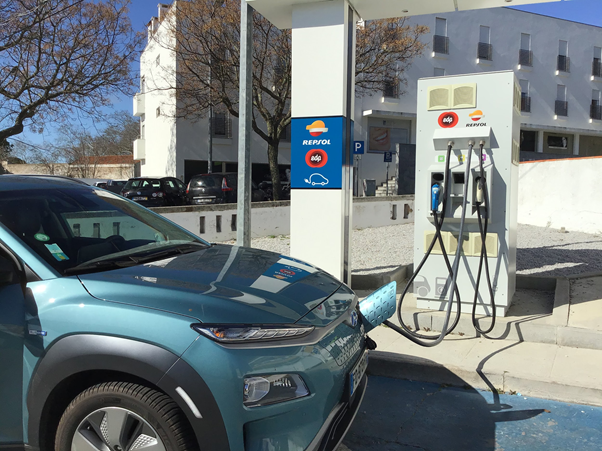 Next up was a rapid charger in Évora, our first charge with the untested Evaz card, just in case it didn't work, we had taken on enough charge at Caceres to have a surplus of around 125 km range, whilst not enough to get us to our destination, it would have at least taken us to a fast charger, less than ideal as despite being called fast, you can only expect 7 kW max, or roughly 10% an hour for our car, it would take ages, but if all else fails… the charger in Évora is based at a Repsol petrol station, so had the facilities that you would normally expect, sadly lacking at Wenea's stop.
With a nervous hand I put the RFID card on the appropriate place on the charger, it immediately said that it was validating, next up it asked us to select plug type, I pressed the CCS combo button and plugged the car in, within a few seconds we heard the comforting clicks from car and charger that confirmed it was trying to start charging and indeed it did start, within a few moments showing 46 kW, pretty much standard for a 50 kW charger, the relief was immense! I sat in the car and sent Eva an email to let her know and thank her for all her efforts getting the card to us so quickly.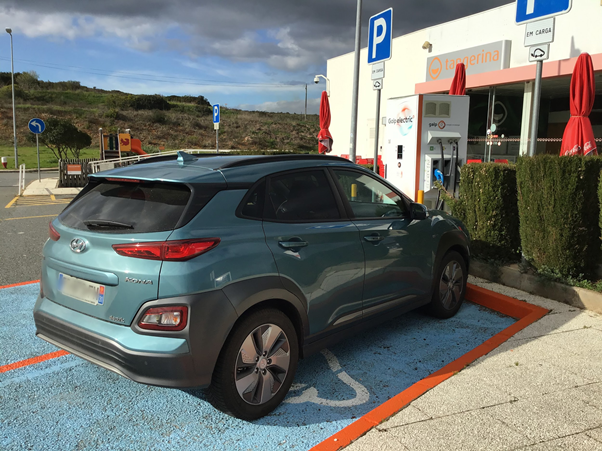 We were now able to gain more than enough charge to get us to our destination, but as we were a bit ahead of schedule we visited another charger 10 minutes from our accommodation, a Galp service stop, likewise all went well.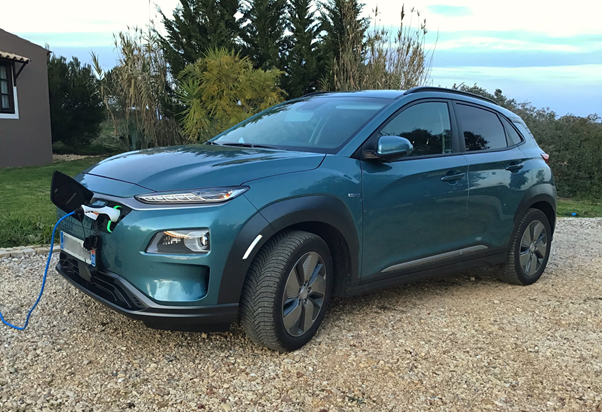 We had prearranged with our hosts for an outside socket so that we could plug in the granny charger, yes they are painfully slow, but if you are driving less than a couple of hundred kilometres a day, charging overnight can keep your car topped up quite nicely. Just keep tabs on how much you use to reimburse them for energy used.
Having driven through a few countries with our EV, apart from the hassle of obtaining the RFID card, Portugal is definitely heading in the right direction.
Miio shows many new chargers being built, my only criticism would be that there are no (as far as I'm aware) ultrarapid chargers, and it would be more future proof to have multiple stalls, this not only provides less chance of having to wait for a charger, but also if one is faulty for whatever reason you have an alternative.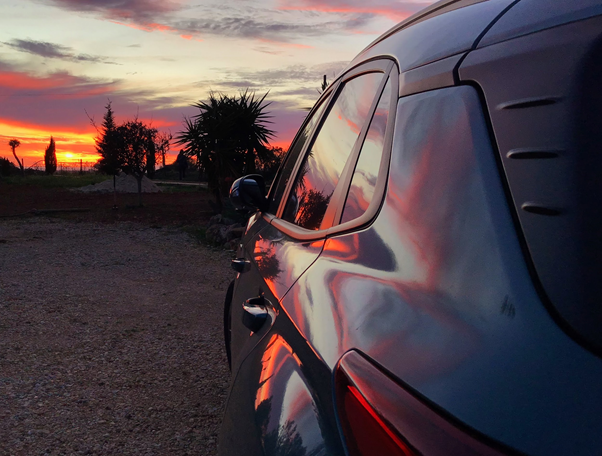 When you arrive at your destination, relax with a glass of wine and a view of the sunset, it's all worthwhile!
UVE – Associação de Utilizadores de Veículos Elétricos would like to thank the author of this article for his kind words, photographs and precious time to share his driving experience with the portuguese EV community. Once again thank you very much and hope you enjoy our country! We're positive that in few months this year our normal and rapid charger network will upgrade and travelling here will be easy and worry free!